What our operators, Richard and Jennie Funnell, say about Bone-Dry Carpet Cleaning Banbury …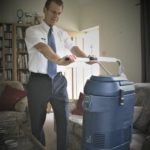 Hi, we are Richard and Jennie and together we own and operate the Bone-Dry carpet cleaning and upholstery cleaning franchise in Banbury and all the Oxfordshire area.
Known as Bone-Dry Oxon, we are based in BANBURY but also service a wide area of the county including North, East and West Oxford, Burford, Carterton, Witney, Bicester, Kidlington, Chipping Norton, Brackley (Northants) and everything in between!
Currently we can offer the following cleaning services to our customers :-
DRY and ORGANIC Compound Carpet Cleaning for all types of carpet including wool and NATURAL FLOOR coverings (Sisal, Coir, Seagrass etc.) and rugs with zero drying time
UPHOLSTERY Cleaning, Spot & Stain Removal
STAIN GUARDING using Intec protection systems
STONE and Ceramic floor cleaning
MATTRESS Cleaning and dust mite allergy protection
LEATHER Cleaning & Conditioning.
Our business philosophy is to provide you with a job not only well done, but that will impress you, your family and friends, ensuring you will want to come back to us.
Returning in 2007 from a prolonged stay in Italy, Jennie and I researched for a new business opportunity that we could feel enthused by and truly believe in.
Looking at carpet cleaners as Jennie was into carpets, having had none in Italy; we came upon the Bone-Dry organic process and were completely bowled over. A safe, healthy and totally dry means by which to maintain your carpets' looks over a period of years – wow! After all, they were quite an investment when new! No more dampness, heavy residue, patching or stretched seams – double wow! When we realised this process also assisted in removing pollens and allergens (we were impressed as we have a grandchild who suffers from eczema), yet was still user-friendly for pets – well, we were sold! Since then, we have not looked back. We now have a great business operating a system that we know works and can provide a service to our customers which is second to none.
Operator PostCodes: OX1, OX2, OX3, OX4, OX5, OX6, OX7, OX8, OX9, OX10, OX11, OX12, OX13, OX14, OX15, OX16, OX17, OX18, NN13
Operator Towns: Banbury, Bloxham, Adderbury, Tadmarton, Milcombe, Oxford, Bicester, Kidlington, Barford, Carterton, Witney, Chipping Norton, Brackley, Middleton Cheney and everything else in between
Related Posts